Revamping your professional Pilates studio's floor tile finish with tiles can be just what it needs for a new flow of energy. Get well-versed with the options that you need to consider when choosing the right floor for your pilates studio. Gauge its pros and cons and know if it's worth it for the price imposed.
Why does Pilates need well-thought flooring?
Pilates offers a great way of improving health by strengthening the core and sustaining a calm and meditative approach to it. Instead of the usual upbeat form of an exercise, Pilates is much slower and contained. It is also muscle-specific and the practice feeds on a form developed over time. This gives a background as to how you should choose the right Pilates floor tiles that you think suits you.
What is the best kind to go for?
A professional Pilates studio should provide flooring that is not just of quality but should also be high-performance. Ensure this by choosing the resources used. This goes for the safety of it too. The floor is one of the parts of the studio that is surely staying for the long haul. The usual wall-to-wall installation saves a lot of wear-and-tear issues since it maximizes the floor space and keeps the edges from random tears.
How would you know if it's the best kind?
Make sure the materials used are durable. People will come and go in the studio. There'd be a lot of traffic that has to be sustained from classes conducted to transitions in between. Feet would be walking along, pressing onto it so make sure they are moisture resistant. This is to avoid developing foul odor within the vicinity which could drive away clients.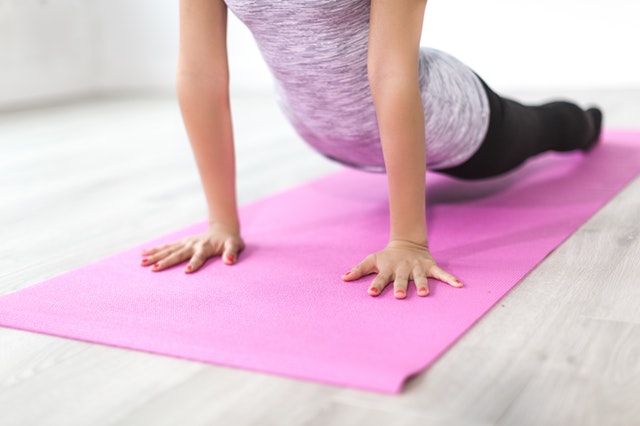 Also, choose a flooring that has the right strength and thickness to hold the heavy machines that will dwell on these floors. Besides the flooring is not just for the ones that will step on it but also for the protection of the surface under it.
What's most important to consider is that the people that will do Pilates would feel comfortable in coming off their exercises from the machines or even just from their mat. Choosing the best kind for your future clients would make their practice or their performances maximized and joyful.
Tiling options:
While being reminded on how to choose the best flooring beginning with what kind of materials should be used, here are some of the tiling options you could consider:
Rubber Tiles
In addition to being durable and sustainable, cushioned rubber tiles are facilitative with people who have joint problems. It is also the most common and the most preferred tile option because of the comfort it assures a user. People love how it feels underneath their feet since Pilates requires you to practice bare-footed or with special Pilates shoes that are thin conforming to your feet. As it conforms to the contours of your feet, the usual force going against the very soul is not there anymore. So additional effort in balancing and sustaining a pose or a position is needed. Nevertheless, this gives you a secretive workout in the glute area, the torso and the abs. Rubber tiles empower students to try poses and exercises beyond their usual because of safety issues. Handstands, splits, and other physical activities are perceived doable.
These are the cheapest out there in the market. But one thing I love about it is that it's the easiest to clean. What you may need to know is that it doesn't absorb water. So sweat doesn't do that much damage. Though it's not that thick with only ¾ inch in height, it can easily be moved around and it's easy to install. It's almost just like putting puzzle pieces together with these foam tiles.
Made up of quality ethylene vinyl acetate or EVA foam, it has a lightweight design yet super durable. The Gym Floor Pebble Top Tile Pilates Flooring comes in interlocking foam tiles with a pebbled surface for a patterned top or on natural stone. Sizes are customizable with as easy as a sharp utility knife.