It's possible to make your apartment appear like a luxury hotel with key styles of interior designs. With innovative ideas, any home can be designed luxuriously. Also, the use of colors and ideas helps to put your luxury accommodation in the spotlight. A contemporary interior design style can be a mix of different styles. However, your interior designer should ensure uniform conformity with your home's architecture.
Accentuate Your Interior Design with Curtains
A smart way of enhancing the design of your luxury home is by using low-key luxe curtains, or blinds. However, the plan to infuse an eclectic style of well-designed curtains might increase your expenses. Instead of expensive curtains, homeowners prefer to use Venetian or wooden blinds because they enhance privacy. Generally, window coverings like curtains and draperies are easy to maintain. Also, luxury curtains with high-end designs come in fabric options of damasks, linen, and silk. These are common types of certain materials that you'll see in luxury hotels. You might want to stick with your budget by hiring a seamstress that can design luxe curtains that appeal to your taste.
Consider Aesthetically Beautiful Light Fixtures
Get creative when you intend to choose key styles of lighting fixtures for your luxury home. Usually, lavish lighting fixtures like wall sconces, chandeliers, and side lamps are expensive. However, you can maintain a budget that allows you to transform your home into luxury accommodation with statement lights. Simply hire an electrician to install ceiling light designs and elaborate overhead lights in your apartment. Consider the use of bold colours that can bring out the effect of bright lights. Also, artwork under overhead lights can showcase the beauty of any interior design proudly. The aesthetic beauty of well-designed lamp shades, pretty vases, and side lamps can add to your style of lighting fixtures. They can create a well-lit home, even in the absence of natural lights.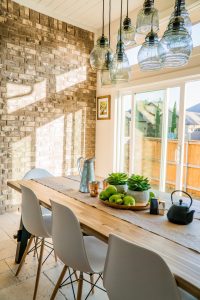 Place Huge Emphasis on Furniture
There's no luxury accommodation without eye-catching furniture. Even in 5-star hotels, you'll see artwork and decorations along with extravagant furniture. Usually, every single piece of luxury furniture creates appealing interior designs that defy simplicity. However, your luxury home's furniture like chairs, open shelves, and tables can complement and organize your space in fabulous ways. One trend is to utilise a range of stylish, high quality wire furniture to complement the design of the room. When you are set to choose styles for luxury accommodation, it's a good idea to visualize how the room will appear before moving any piece of furniture. Alternatively, furniture accessories like throw pillows are eclectic interior fittings. Get pillows that have well-embroidered designs, they can help you to balance your home decoration style. For homes with private rooms for relaxation, gaming tables and armchairs are versatile additions. Some homeowners prefer to use the penthouse of their villas for relaxation as well as for tete-a-tete purposes. For them, it's a style that displays elegance and extravagance.
Experience the Touch of Flowers and Greenery
Flowers make great additions to modern homes. They help you to organize your space and reduce clutter to a minimum. According to interior stylist, the versatility of flowers is incredible. Greenery and flowers in beautiful vases enhance interior designs and make an amazing luxury space. Roses and orchids bring elegance and luxe-up modern homes. Like high-end hotel lobbies that have vases and bouquets of scented floral, you can make your luxury accommodation smell nice with lush flowers. Usually, floral arrangements in the home reflect the lifestyle of its inhabitants. You can choose green plants or red twigs that radiate the power of nature into every space of your home. Don't forget that vases attract more attention to flowers so be selective when it comes to buying the best vase for your home. Alternatively, customised wire work in the form of potted plants and ferns and plant display stands are also a trendy design option to consider.